*This post may contain affiliate links. As an Amazon Associate we earn from qualifying purchases.
Becoming a pilot is more than just reading a manual and grabbing a joystick. Serious training and understanding of aerodynamics are crucial. You will need a top-notch training program to prepare you for the various pilot licenses available. From private to commercial, all the details are here.
​
6 Best Flight Training Programs
Choosing the right flight training programs can be a difficult task. With the ability to go in person, online or at-home for the ground-based learning, knowing what to follow up with for the in-air training is a crucial and critical step.
This article will discuss the top flight training programs available and how you can access them. We will also show you want to look for, what to avoid and how to make the right decisions for your personal needs.
If flying is your passion, we have the list for you, scroll down to find out the best training programs around the nation.
Comparison Table
| Site Image | Rating | Visit Site |
| --- | --- | --- |
| | | |
| | | |
| | | |
| | | |
| | | |
| | | |
How We Choose Our Ratings
We scoured the nation looking at flight schools, both online and in person. We made phone calls and visited hundreds of flight schools and took a deep look at every possible aspect. From there we compiled a list of wants, needs, and desires and matched each school with our list.
We also send out team out to talk to students, both past and present to find their take on the schools, their offerings and how the school worked for them. We listen to the comments, complaints, and accolades, and take into account both sides of every story.
From there we compiled our list of the best flight school programs and gave each one a star rating from 1 to 5. While not every school or program can be rated a full 5 stars (5 is a perfect score), only the top programs made this list.
If you are looking for the perfect flight program, then you are in the right place. All of our work to compile this list has made your decision that much easier. Find out below which schools are right for you and go apply to learn how to navigate the skies.
The 6 Top Best Flight Training Programs
The best aviation training programs are listed here. Find your perfect match, apply and get the job you've always dreamed of.
Purdue University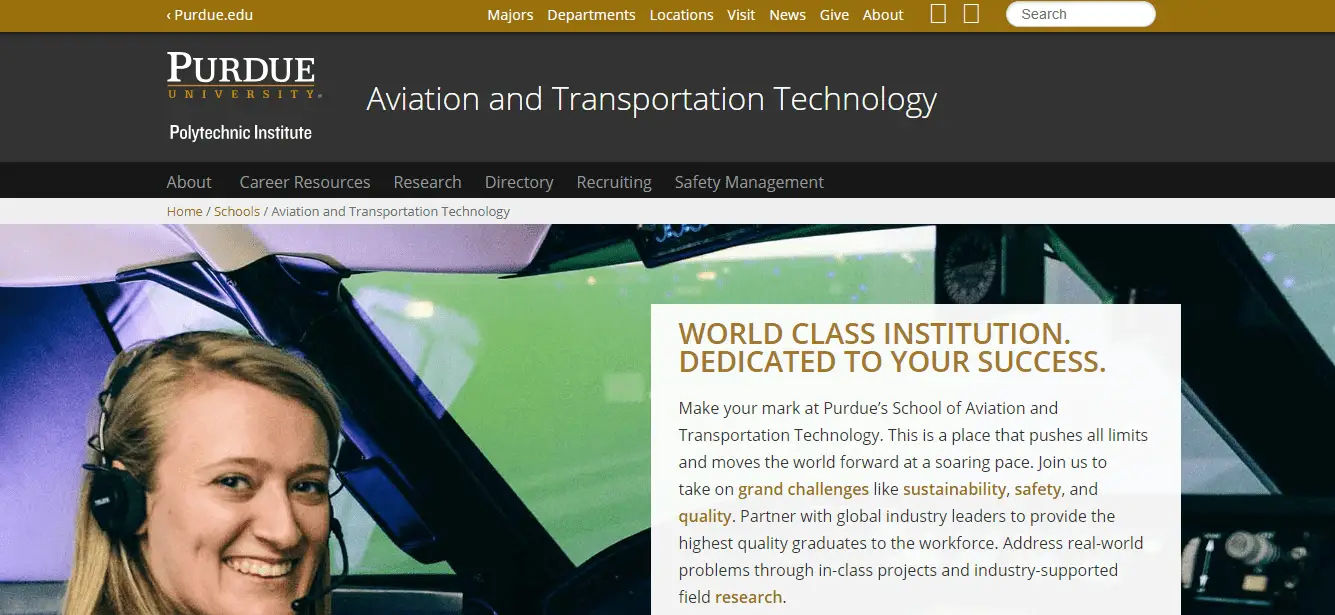 Purdue University has one of the largest and most robust aviation programs available. There are ten different aeronautical and aviation courses for you to choose from, including post-graduate degree courses.
The flight school graduates are some of the most sought-after students by employers after graduation, and full financial assistance is available. If you want to be an aviation mechanic, Purdue has you covered. If you are looking for a pilot license, they have you there, too.
The school also offers simulators for use in training (50 hours of which count towards your commercial license.). You can even major in aviation and aerospace management to work in the field, but not as a pilot, in some of the world's leading technological industries.
When it comes to top-notch instructors, planned paths to success and on-ground and in-air training, it's hard to beat Purdue.
San Jose State University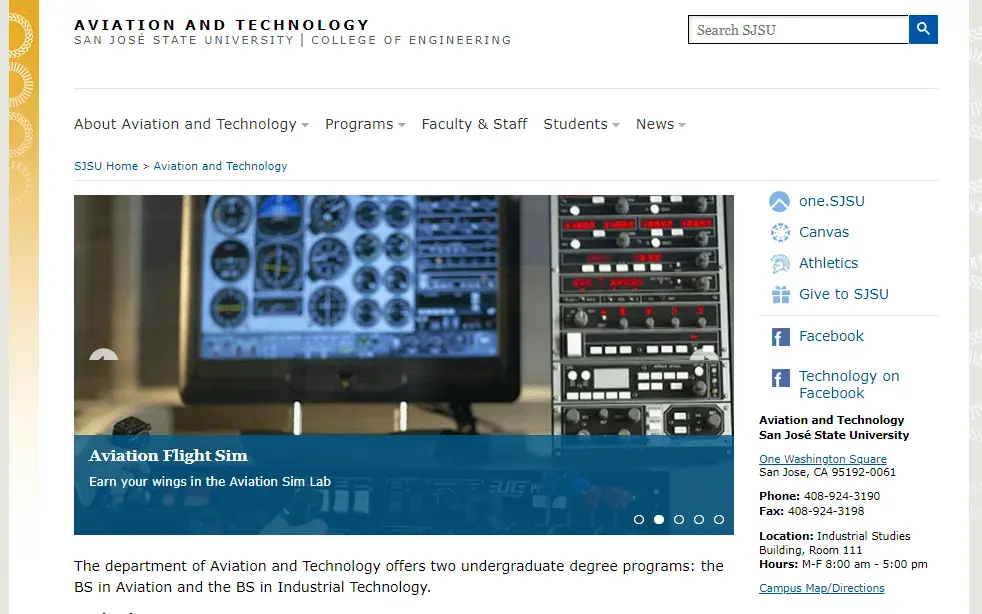 San Jose State University offers two world-class degree programs in avionics. You can learn about aviation operations, flight control, management and even get certified as a professional pilot while earning your bachelor's degree from a well-respected university.
San Jose State works with local flight school and FAA inspectors to get you everything you need for a pilot license. You will receive a degree in avionics and a pilot license simultaneously through their Professional Flight school.
If being a pilot isn't exactly your main goal, you have several other aspects you can approach. Since the university is an accredited school, full financial assistance is available to those who qualify.
If history and heritage are of concern, San Jose was one of the original 13 schools to offer pilot training when in 1931 the math department students began demanding flight instruction. During the years leading up to World War II, San Jose was a founder of the Civilian Pilot Training Program.
Since 1960 the bachelor's degree program has been instituted and is still available to you today.
Spartan College Of Aeronautics And Technology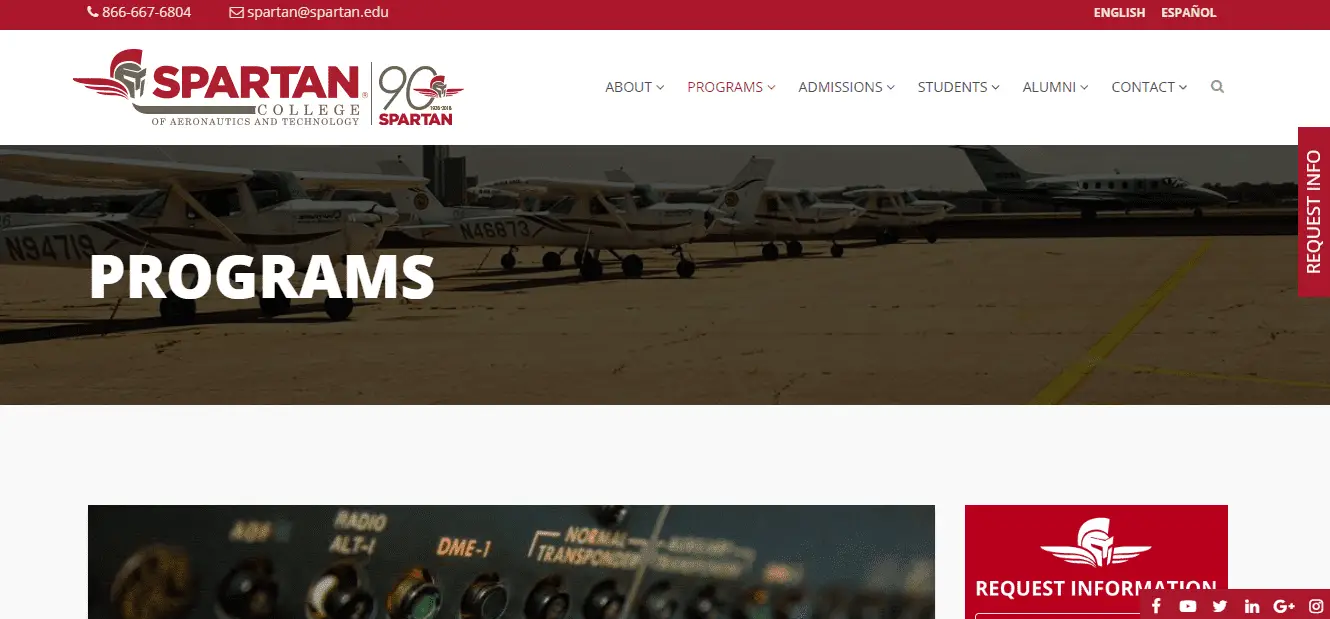 Spartan College is one of the few nationwide campus driven aviation schools. It is also one of the best. Depending on your location (or willingness to travel to a campus) you can choose from over two dozen programs.
The range of choices ensures that whatever your aviation dreams are, there is a career path waiting for you. Everything from aerospace, aviation, technology, and management are included, and the school isn't going anywhere.
Offering aviation training programs since 1928, Spartan College is one of the industry leaders in the aeronautical industry. Everything you need form diploma programs to bachelor degrees is included. You can take your pick and become a licensed pilot or an aviation tech.
Tuition assistance is available, and scholarship programs exist to help out as well.
Embry Riddle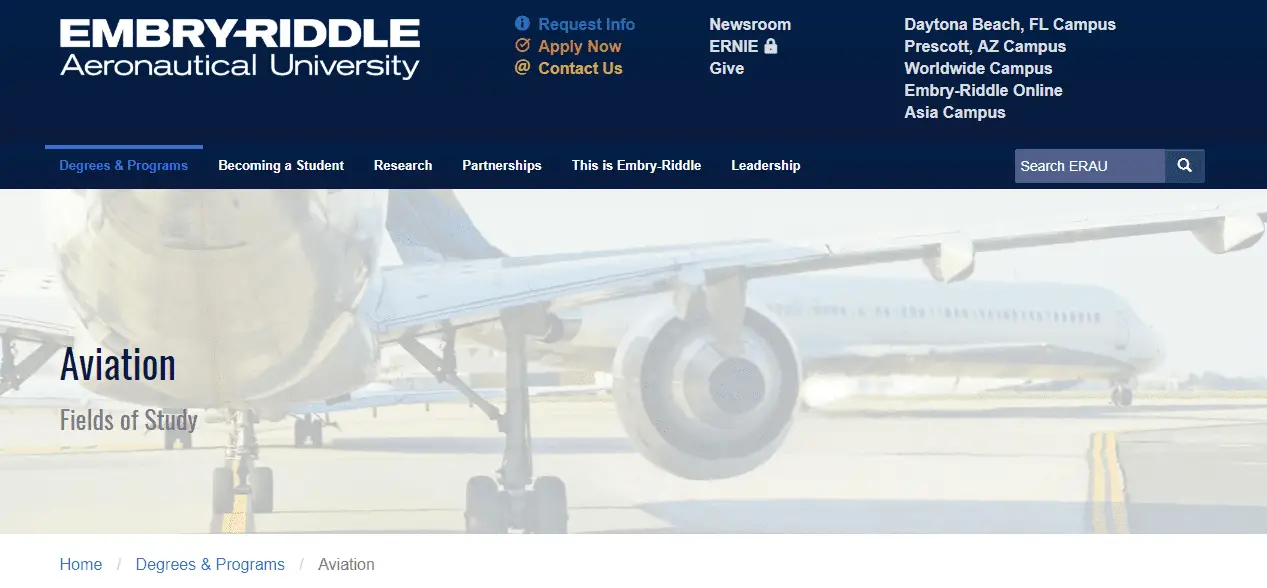 If you are looking for diversity, then look no further than Embry Riddle Aeronautical University. Not only is the school large, but they also offer one of the grandest degree and non-degree programs available.
The school is now worldwide with over 120 school locations. You can also attend online if you prefer. The course curriculum is vast, offering over 35 different programs to choose from. If you want to be in the aeronautical industry, this is the school for you.
Every class is taught by trained professionals with real-world experience. Their classes are also one of the most current in the field. Every class is annually evaluated, updated and modernized to keep up with the changing technologies from the air and space industry.
If you want clout, they have that too, for the last decade U.S. News and World Report has ranked Embry Riddle as the number one aeronautical school (non-college – ranked 12th overall) for their classes, availability, and leadership. This school turns out more professionals every year than the other top 5 schools combined.
They offer degree programs online for those that can't attend in person and have on-ground and in-air programs for every aviation degree available.
It doesn't matter if you want a degree in aviation, aeronautics, aerospace or a license to be a private or commercial pilot, Embry Riddle has the course for you.
L3 Airline Academy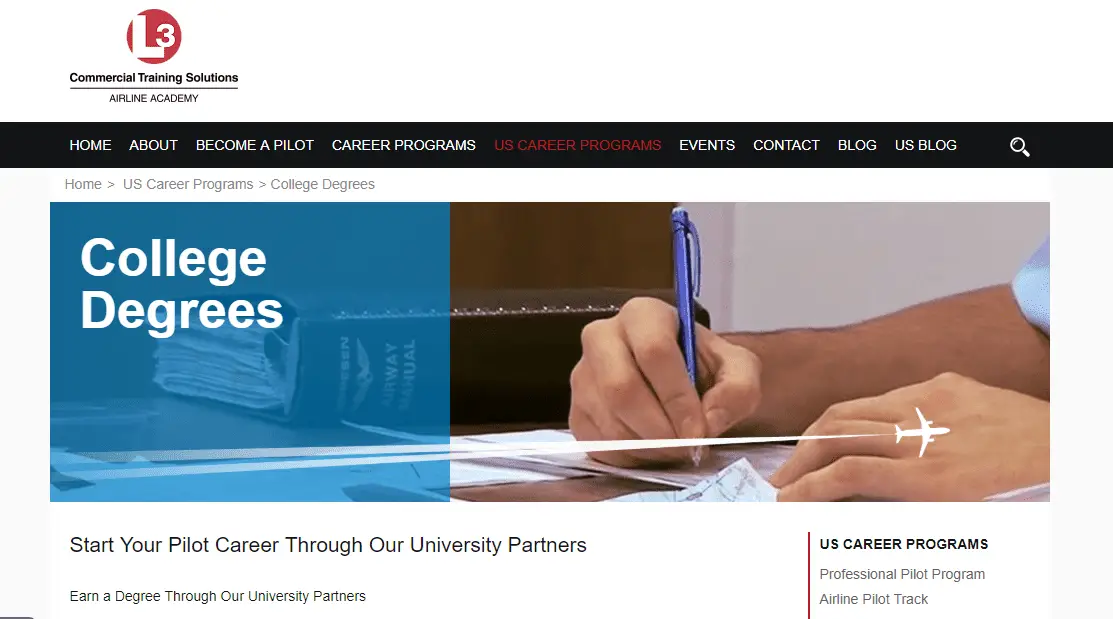 Assuming you aren't trying to become an aviation technician and just want to be a pilot, L3 Airline Academy might be just what you are looking for. While you can pursue a degree in aviation through one of their partner schools, L3 is focused on getting certified pilots out into the world.
If you want to earn a living flying commercial airplanes, this is the program for you. They have a lower cost than a university and are more focused on exactly what it takes to be on track for your pilot license.
Learn to fly, with all hours monitored and logged, on-ground training and each step of the licensing process outlined and followed. You can't go wrong with a course that is designed with a single goal in mind: get you a license.
They have commercial license programs as well as private and international pilot programs. So whether you want to fly as a hobby, as a career or as an overseas adventure L3 Airline Academy has just the track for you.
Hallmark University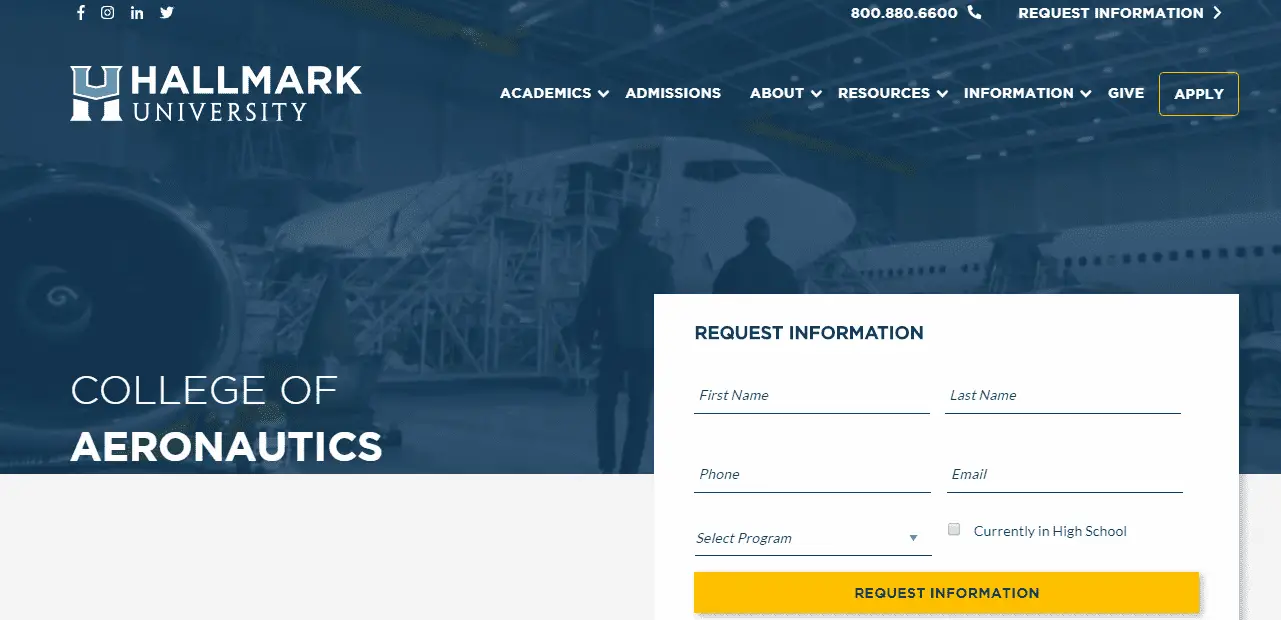 Perhaps you don't want to fly the planes and instead are focused on obtaining your Airframe and Powerplant licenses. Hallmark University College of Aeronautics might be your perfect fit. Based in San Antonio, Texas, the school offers real-world, hands-on training with actual jet engines in a real-world environment.
You will be working on actual jet engines right in a hangar on the grounds of the San Antonio International Airport. All FAA exams and requirements are met and accomplished right on site, and you will earn your license and be a viable, employable member of the aeronautic industry.
Companies like Boeing and Lockheed Martin seek out the graduates of Hallmark University for their excellence, training, and viability. If this sounds like something you want to pursue in your aviation world, here is your chance.
Other Things To Consider
There are many different aspects of a flight school or training program that you need to be aware of. Not every school is designed to get you every possible aviation job available. Let's cover some of the aspects you need to consider and think about before making your final selection.
Type Of Pilot License You Desire
There are two main types of pilot licenses: private and commercial. Each one will have various requirements before you qualify to take the final exam.
You must first acquire a private license before you can move on to the commercial one, for example. Private licenses are designed for hobbyists or as the FAA mandates, a pilot who is not paid for services.
You will need a commercial license to have a job as a pilot, which has a longer, more strict set of regulations and requirements. The private license will cover the basics of flying, some meteorology, instrument certification and a medical certification (third class).
However, to have a career as a pilot, you will need to add flight hours to your logs, upgrade to at least a second-class medical certification, log more flight hours, including solo flights and cross-country flights. There are extra FAA regulations to comply with as well as exams to pass to show proficiency.
If you want to become a commercial airline pilot, you will also need to include a first-class medical certification and log 1,500 hours in the air.
Depending on your needs, the right school will get you on the track you need to be on.
Tuition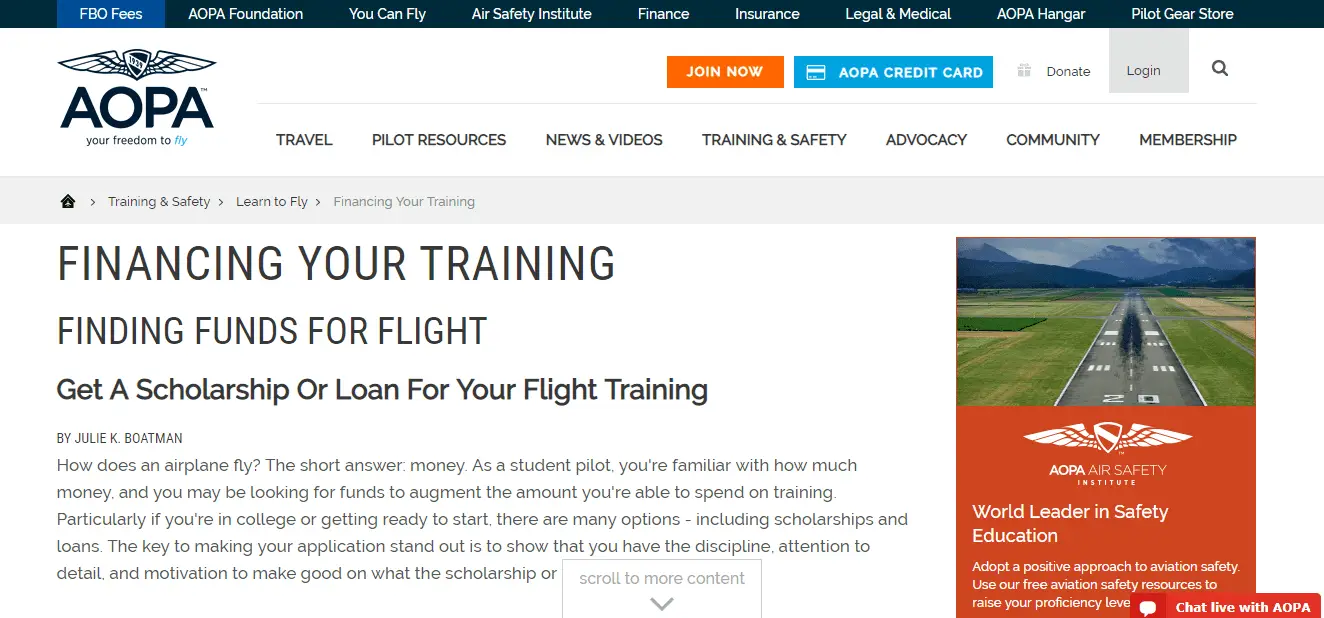 School isn't going to be cheap. Airplanes are complex machines that require a lot of upkeep, maintenance, fuel, and repairs. The instructors time is valuable, and you are going to pay for all of it.
You may not be plopping down cash equivalent to a Harvard post-graduate degree, but it won't be cheap, either.
Most schools offer financial assistance and student loans. You can also qualify for grants and scholarships, too. Each program is different, so it is something you will need to find out and consider before sending off the application.
If you need the assistance it should be available to you; if it is not, you may need to pick another program.
Duration Of The Course And Time Commitment
Flight training is a huge time and resource drain. You will spend a lot of hours devoted to the airplanes, instruction, and practice. This isn't the type of program where you can phone it in and show up on exam day. The prerequisites require you show up and put in the hours.
If you don't get your in-flight hours logged and signed off, you won't get a license. Before you begin, you need to figure out how much time is involved with each program and realistically how much time you have to devote to the education and practice.
Find a program that best matches your availability for the best chance of success.
In Conclusion
The best is always going to be subjective. However, with this list, you should have a better idea of what flight program you are best suited for and where you will have the greatest opportunity to excel.
No matter what you choose, your devotion, motivation, and concentration are required. Getting the properly logged hours, both on the ground and in the air are your responsibility. With the right school, you will reach your dreams of becoming a pilot and experience flight like you never thought possible.