*This post may contain affiliate links. As an Amazon Associate we earn from qualifying purchases.
Reviews: US Aviation Academy
With over 500 flight schools in the United States, it can be difficult to decide where to go. Whether you learn to fly an airplane as a hobby or to become a pilot in the travel industry, flight school plays an important role in your success.Not only is it important to learn the essential skills of flying, but earning your license from a top-rated flight school with a good reputation can also help you succeed.In our review of the US Aviation Academy, we will discuss the various programs available, the cost of the programs, what you can expect from flight school at the academy, and what past students have to say about attending the academy. We'll give you all the information you need to determine if it's the right school for you to earn your pilot's license.
COMPARISON TABLE
| SCHOOL | IMAGE | RATING | DETAILS |
| --- | --- | --- | --- |
| Aviation Academy of America | | | |
| Academy College of Aviation | | | |
| University of North Dakota | | | |
| Ohio State University | | | |
What Is The US Aviation Academy?
The United States Aviation Academy is a flight school based out of Denton, Texas, which has been in operation since 2002. The school is approved by the Federal Aviation Administration (FAA) and a CFR Part 141 flight academy.
The fight academy has two campuses in North Texas; one at Denton Municipal Airport (DTO) or at the North Texas Regional Airport (GYI) in Sherman, Texas.
Depending on your interests, you can follow the Domestic, International, Helicopter, Enthusiast or Non-Career Training programs. Let's take an in-depth look at each program available through the flight academy.
Domestic Flight Training
Whether you've already earned your ​pilot license​ or instrument rating or you have never controlled flown an airplane, you might be interested in becoming a commercial pilot or even a flight instructor.
Becoming a commercial pilot means that you can fly an aircraft and become an employee of an airline. In some cases, becoming a certified flight instructor can help you become a commercial pilot more quickly. Here's what you can expect from the domestic flight training program:
Receive flight training at Tarrant County College (TCC)
Earn FAA Pilot licenses and ratings
Earn college credit towards Associates of Applied Science degree
Opportunity to earn Bachelor's degree
In the career track of the domestic flight training program, you may also have the opportunity to take advanced courses which include, commercial pilot single-engine, helicopter to airline conversion, multi-engine add-on, turbine transition, and certified flight instructor.
Private Pilot Training
Getting your pilot license as an international student is an excellent opportunity to see other parts of the world. The training program is different than obtaining a commercial license, and you have the option of choosing flight training for the following regions:
Have a student medical certificate
Be at least 17 years old
Fluent in English (both written and verbal)
Prep for the FAA Written Exam or pass it before the program
International Pilot Training
If you have a desire to earn a pilot's license but only for your own personal use (i.e., hobby), you can enroll in the private pilot training program. While private pilots may fly a sports plane (or one they are licensed to control) any time of day, as long as the weather permits, and have passengers on board, they cannot accept compensation for the flying the plane.
If you are interested in the private pilot training program, you must do the following:
India
Saudi Arabia
South Korea
Sri Lanka
Taiwan
For more information on specific international programs at the US Aviation Academy, click here.
Helicopter Pilot Training
As an aviation enthusiast, you already know that each type of aircraft works a little differently and requires specific skills and instruction. If you have an interest in professional, private, or international helicopter training, the flight academy has several programs available to help you earn the right license, ratings, and other credentials.
How Long Does It Take To Complete Courses?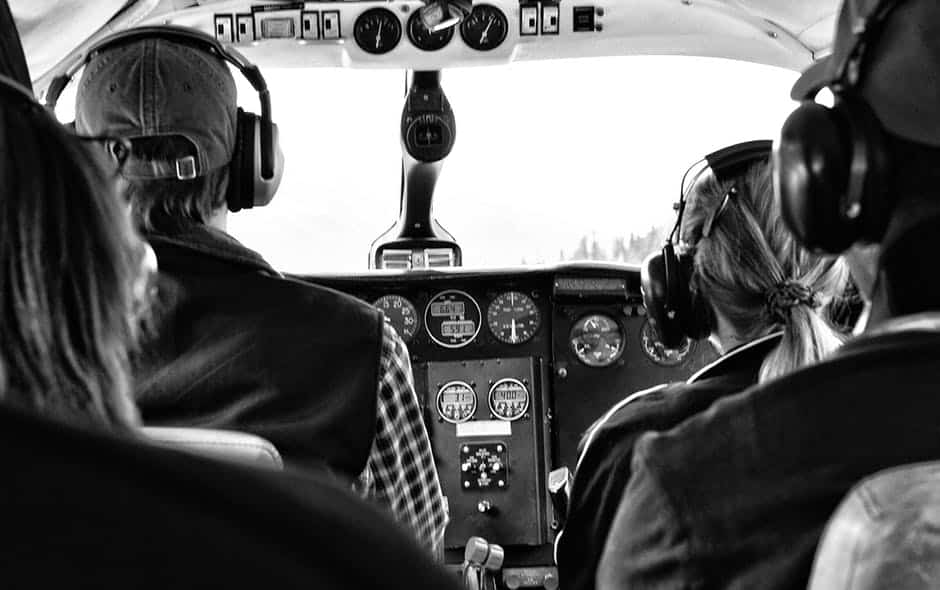 Depending on the type of license you are working towards, you might earn your commercial pilot license within five years. Here's what the typical TCC Profession Pilot Track looks like:In the first two years, you are enrolled in flight training, earning an Associate's degree and private, instrument, commercial, CFI, or CFII license. In your third year, you can build flight hours as an instructor, have one to two years of instruction to meet ATP Minimums, and earn benefits from the Regional Airline Partnerships.Around your fourth and fifth years, you can work for a regional airline, have company seniority, earn sign-on bonuses, and have a starting salary of up to $60,000.It's important to keep in mind that your coursework and track for completion may be different, depending on your experience, goals, and other factors.
Applying To US Aviation Academy
If you have decided that the flight academy is the path you'd like to follow, you can contact the academy to speak with someone in the Admissions office and then request an application. When you fill out your application, you will need to include documents, which include:
A valid driver's license
Proof of United States citizenship
A high school diploma or college degree/transcripts
A pilot's license if you already have one
First Class medical card
Tuition At US Aviation Academy
The costs related to earning a license or degree may change at any time, but here is the current TCC's Aviation Professional Pilot Cost Guide.
Professional Pilot Associate of Applied Science Degree is $3,540 (60 credit hours at $59 each).
Commercial Pilot Certificate of Completion is $2,301 (39 credit hours at $59 each).
Flight Instructor Certificate of Completion is $413 (7 credit hours at $59 each).
In-County tuition is $59 per credit hour and Out-of-County is $106 per credit hour.
If you are an Out-of-State student, your credit hours will cost $255 each.
Books and equipment cost around $2,000 and Flight Fees cost $61,856 for fixed wing and 285 hours. It's important to remember that Flight Fees will vary depending on your program.
Financial assistance is available through financial aid programs and students are encouraged to fill out a FAFSA form if they are eligible for assistance. If you are a Veteran, you may be eligible to get financial aid through the VA GI Bill.
What Do Others Say About US Aviation Academy?
Since there are hundreds of flight schools throughout the U.S., it can be challenging to know which ones are good and which ones have less than five-star ratings.Curious to know what others had to say about the flight academy, we read dozens of reviews and testimonials online from people who had completed the program or had taken some of the courses.The flight academy receives mixed reviews from the people who attend or attended the academy. Most of the people who work as (or used to work as) flight instructors had mainly positive things to say about the school.The people who had positive reviews about the flight school thought that is money well spent and they had completed programs in the short amount of time. Many said that they had numerous opportunities to have hands-on training for flight hours, enjoyed the various aircraft, and instructors.People who critiqued the flight school commented on flight equipment that was "glitchy" or often needed to be repaired. Some complained about an unprofessional and disorganized management and others thought the credit hours were too expensive for what they were learning in the courses (and the amount of time they learned the courses).Some were critical about the "lack of flexibility," and others liked the instructors but didn't think there was any real leadership in the programs.
How Does The US Aviation Academy Compare?
While it's important to see what others have to say about the flight school, it's just as important to see how it compares to other flight schools in the U.S.
Aviation Academy Of America

The Aviation Academy of America, which is located in the Greater San Antonio area, has a Professional Pilot Program and also offers pilot training for international students. The average cost for flight school through Aviation Academy of America is $68,500.
Like the United States Aviation Academy, there are opportunities for Veterans and financial aid is available, but the program options are limited; there are no private or helicopter pilot licenses available when we looked at the flight school's website.
Academy College Of Aviation

Located in Bloomington, Minnesota, the Academy College of Aviation offers aviation programs which include commercial aviation, commercial pilot, and aircraft dispatcher. This flight school does not offer other programs like private pilot or helicopter licenses.
For more information regarding the cost of tuition, you need to contact the school directly or apply.
University Of North Dakota

At UND, in Grand Forks, North Dakota, you have several options to pursue through their aviation program. Depending on your interests, you can earn a degree which can place you in the airport, aviation, air traffic, or aviation technology management. You can earn a commercial license for either fixed wing or helicopter, and you can also earn a private pilot certificate.
Based on your interests, the flight costs may range from $5,000 to $95,000. The length of program also varies depending on your focus of study.
Ohio State University

Ohio State University, in Columbus, Ohio, has a variety of undergraduate and graduate opportunities in the aviation program. Students can earn their commercial pilot certificate with an instrument rating as well as a flight instructor or multi-engine rating. Depending on the program, flight fees may vary between $100 and $375 per hour.
Like other flight schools, Ohio State offers financial assistance to aviation students that are eligible.
Ohio State University
After reviewing the US Aviation Academy and other flight schools across the country, we think that the academy is worth checking out and learning more information if you have a strong interest in earning your pilot license. While the official website for the academy has a lot of information, it may be confusing to a prospective student.
Although they do a decent job of answering questions on their FAQ page, individuals who are seriously interested in taking courses at the academy should contact the school directly. As you consider your flight school options, it's important to consider what other reviewers have to say about the United States Aviation Academy.
Many were complimentary about the programs and the instructors, but the management was disorganized and in many cases seemed to be non-existent. This may be a red flag considering the amount of money you might spend on earning your pilot's license.
If you want to specialize in other aviation courses, you may be better off taking courses at a state college or university, but if you want to obtain a private license or an instructor's license, the academy might be an ideal choice for you.
In our review, we strive to give you as much information as possible, so that you can make a well-informed decision about flight school, but any school you choose will require additional research. Many of the flight schools, including the United States Aviation Academy, design their websites, so that prospective students have to contact them directly for more information.
Even though we spend a long time researching various sites and sources, there's a limited amount of information we can obtain about flight schools, their individual programs, and all the details (including the cost).
Flight school is a great opportunity since there will continue to be a high demand for pilots, but make sure you have weighed all your options before applying or paying for tuition.